We are finally here! Woohoo! :)
It's been a while since I had a chance to update. But basically, one of my good friends and I are here for the week to attend the annual JavaOne Developer's Conference. Sun Microsystems was really awesome and decided to give out FREE STUDENT PASSES this year to both JavaOne and CommunityOne (the one-day event before JavaOne). Anyway, we missed most of CommunityOne, because by the time our flight came in and we got to the Moscone Center, it was almost 3PM. But, we did register and get our really cool-looking, RFID-enhanced badges, as well as get acquainted with the environment.
We did get the chance to sit in on a few sessions, including one about some web technologies: it was really good, but a lot of the things went over my head. I did, however, pick up some really cool terms, like cloud computing, and I think I got the general picture. The second session I went to, though, it was about Jython/Python, and it was absolutely HORRIBLE! The man that was on stage was swearing every time his demo didn't work… which was practically every line! I was not at all happy, and in fact, over half of the people ended up leaving the session.
Later that night, we attended the CommunityOne reception, where the food was really nice, and we met another Tech student! :)
Also, since my father works at Sun and he goes to JavaOne every year (I really wish he was able to speak this year… the one year I was able to go!), I got to meet up with him, which was really great! :) He is working on the Glassfish project, and he went to all of the talks and BOFs (Birds-of-a-feather) about those: I think he really likes it and that he's really good at it. Check out his blog for more information (it's really good)! :)
Anyway, here are a few pictures from the first day! I cannot wait to see what the rest of the week has in store for me! :)
I <3 Java :)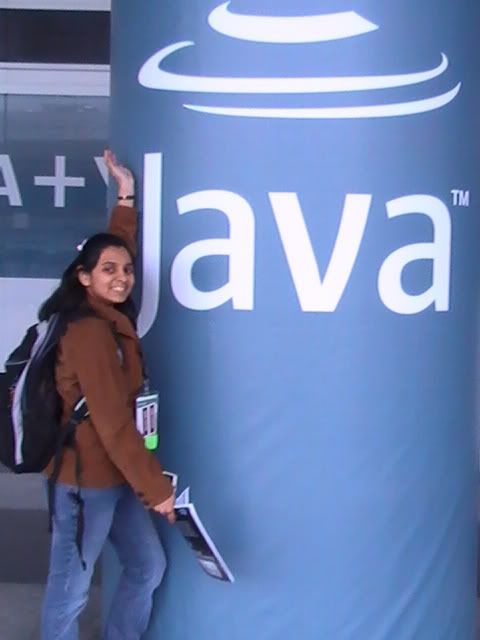 JavaOne has color guard?!? :) Cool!
My dad and I at the CommunityOne reception (don't mind his half-open eyes, please)! :D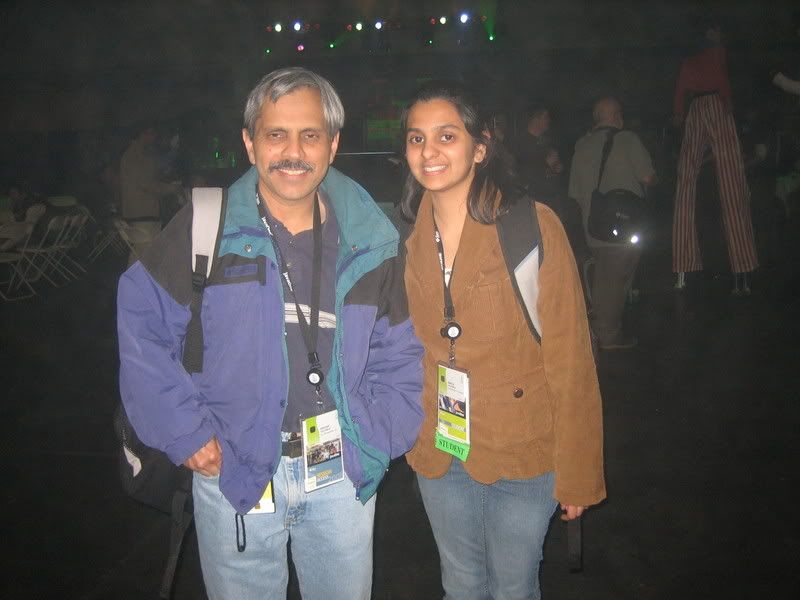 Me at the CommunityOne reception… with a giant, empty pi?ata!!